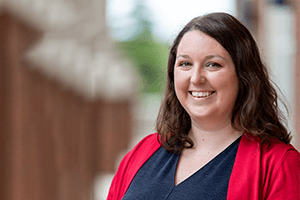 Position:
Assistant Professor of Pharmacy Practice, Ambulatory Care
Location:
HPB 140
Email:
swheeler1@su.edu
Educational History:
Bachelor of Science in Chemistry with Specialization in Biochemistry, University of Virginia; Doctor of Pharmacy, The Ohio State University; PGY1 Pharmacy Residency, Cleveland Clinic Akron General; PGY2 Ambulatory Care Pharmacy Residency, Froedtert & the Medical College of Wisconsin
Fields of Expertise:
Ambulatory care pharmacy
Diabetes management
Rural health
Professional Highlights:
Ambulatory Care Pharmacist: Valley Health Page Memorial Hospital
Board Certified Ambulatory Care Pharmacist (BCACP)
Certified Diabetes Care and Education Specialist (CDCES)
Research:
Dr. Wheeler's research focuses on the role of the pharmacist in the primary care and rural health settings, diabetes care and education, and mentorship within pharmacy education.
Select Publications 
Wheeler SE, Liriano-Suarez J, Adam S, Bucheit JD. Integrating High-Dose GLP-1 Receptor Agonists Into the Care of People With or at Risk for Type 2 Diabetes. ADCES in Practice. 2022;10(3):18-25. DOI: 10.1177/2633559X221086298
Wheeler SE, Struebing T, Drury RLC, Caruso L, Teng BQ, Brazauskas R, Hanson RJ, Crotty BH. Glycemic Relapse in a Collaborative Primary Care-Based Pharmacist- and Certified Diabetes Educator-Led Type 2 Diabetes Management Program. Journal of the American Pharmacists Association. 2021;61(4):476-483. DOI: 10.1016/j.japh.2021.02.007
Wheeler SE, Matt-Amaral L, Mullen C, Townley CP, Boros ML. Evaluation of direct oral anticoagulant use for cancer-associated thromboembolism. Journal of Hematology Oncology Pharmacy. 2020;10(5):272-279. Available at: https://jhoponline.com/jhop-issue-archive/2020-issues/october-2020-vol-10-no-5/18390-evaluation-of-direct-oral-anticoagulant-use-for-cancer-associated-thromboembolism
Wheeler S, Valentino AS, Liston BW, Li J, McAuley JW. A team-based learning approach to interprofessional education of medical and pharmacy students. Currents in Pharmacy Teaching and Learning. 2019;11:1190-1195. DOI: 10.1016/j.cptl.2019.07.010
Wheeler SE, Lee NY. Emerging roles of transforming growth factor β signaling in diabetic retinopathy. Journal of Cellular Physiology. 2017;232(3):486-489. DOI: 10.1002/jcp.25506
Personal Highlights:
Dr. Wheeler is a Winchester native who completed her pharmacy training in the Midwest. She enjoys exploring national parks, hosting board game nights, and spending time with her husband and their pets.