BEYOND GAMING
The mission of the Shenandoah University Esports program is to go beyond gaming and provide students with an opportunity to develop academically, competitively, and professionally in order to become innovators and leaders in the esports ecosystem.
Our vision is to set the standard for professionalism in the esports ecosystem.
WHY ESPORTS?
It's a field exploding with opportunity.
The worldwide esports audience is massive, at 532 million, and there are more than 8 million active streamers on Twitch. Discord, also popular among gamers, Discord has over 150 million active monthly users and 390 million registered accounts and is valued at $15 billion.
While the esports industry as a whole is already a billion-dollar business, it is expected to continue to grow, with an anticipated 2024 value of $1.6 billion, according to Statista.com.
According to Indeed.com, a gaming manager for Blizzard Entertainment, a division of esports juggernaut Activision Blizzard, can earn up to $155,000, while a freelance esports and video game writer can earn an average salary of $60,985, according to ZipRecruiter.
Also, major esports competitions are multifaceted endeavors with worldwide audiences and multimillion-dollar prize pools.
Shenandoah's Esports Team
Shenandoah's esports team competes through the
National Association of Collegiate Esports (NACE)
and the Mid-Atlantic Esports Conference (MAEC), with over 40 varsity team members playing five esports titles against players at colleges and universities across the U.S. and Canada. The team's on-campus home is in the Esports Arena adjacent to the Armory and has a private varsity practice space in Halpin-Harrison Hall. Shenandoah has one of the first esports arenas on the East Coast and the first collegiate, spectator esports arena in Virginia! The competitive team and students in the degree programs work hand-in-hand, allowing both groups to have the best esport experience possible, which will help them in college and long after.
Shenandoah University Esports
Many college students grew up playing esports, and now, they can merged their love of esports with their degree.
Shenandoah University now has a varsity esports program, and plays teams from around the country as a member of the National Association of Collegiate Esports. Find out what games Shenandoah's teams are playing, who they're playing, and how esports is making inroads within academia.
A Growing Esports Workforce
The esports field is perfect for anyone interested in event management, communications, gameplay, coaching, exercise science, or being part of a field that promises to grow more prominent and engaging with every passing year. For example, from 2018 to 2019, paid esports positions increased by over 110%.
.
As noted on CNBC by Peter Guber, a co-owner of the Golden State Warriors, Los Angeles Dodgers and the professional esports organization Team Liquid, being able to fill a particular place isn't necessary for esports.
You'll see that it's everywhere, and it isn't bound by geography. You don't use a stick or a bat to play, and you can play alone or with a whole group of people, play against the best."

Peter Guber | Co-owner of Team Liquid
A new world has arrived, right at your fingertips.
We're ready to pick up the controller and play.
Are You?
Esports News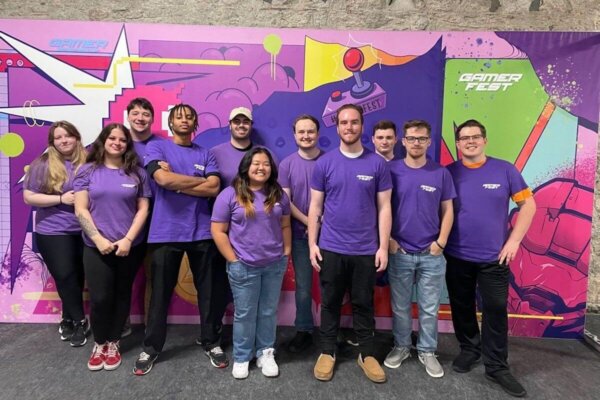 A dozen members of Shenandoah University's esports program explored the sport's global reach during an October Global Experiential Learning trip to Ireland. Shenandoah is home to one of the first ... Continue Reading The Esports Isle
Shenandoah University Esports is excited to share its newest partnership with GLYTCH Energy, a clean energy and hydration producer and health advocate. This relationship aims to improve the quality ... Continue Reading SU Esports and GLYTCH Energy…
Two Shenandoah University students are using their experiences as veterans of the U.S. armed forces and the expertise they've built through SU's esports program to deliver a weekly livestream that ... Continue Reading Shenandoah Esports Students Provide Support…
INSTRUCTOR OF ESPORTS
Zander Merle-Smith
Zander Merle-Smith received his Bachelor of Arts from Virginia Tech and MBA with a focus in Esports Management from Shenandoah University. He has plans to continue his education with an EdD in the future.
His previous experience as broadcast production lead, esports commentator, and event operations has given him the background knowledge to prepare the next generation for the esports industry.
Merle-Smith has performed as on-camera talent for high school, collegiate, and professional esports events
COORDINATOR OF ESPORTS COMPETITION
Alyssa Duran
Alyssa Duran's experience as a competitive player, captain, and coach prepares her for her work in the Shenandoah Esports program. As the Coordinator of Esports Competition she oversees the seven competitive varsity teams and coaches. Her educational background that she attained during her time at St. Ambrose University provides the basis for which she is able to meet incoming students at their level and work with them to become high level competitors. In the past, Alyssa has led her teams to earn conference championship titles and multiple LAN wins.
Alyssa has been recognized for her work as an advocate for collegiate esports through receiving NAIA Champions of Character (2021) and Outstanding Leader of the Year (2020) awards. Likewise, she has been featured on multiple news shows and podcasts for her work.
COORDINATOR OF ESPORTS PRODUCTION
Sean Kelly
Sean has found success throughout the Shenandoah Esports program during his time
here. Sean Kelly graduated from Shenandoah University in May 22' with a Bachelor of Science in Esports Management and a Bachelor of Business Administration. While at SU, he competed on the men's soccer team for one year and on the varsity Overwatch team for two years as the captain.
Sean's experience includes starting the broadcast production project at Shenandoah. Producing shows for companies such as Virginia High School League, AVGL, Stay Plugged In, and PlayVS. In addition, Sean Kelly has worked as a production intern for OS NYC, helping to reopen their space in Lower Manhattan after the pandemic.
Sean is currently working as the Coordinator of Esports Production and continues to grow the digital footprint of the program. He also is continuing to grow the next generation of industry leaders by teaching a broadcast and esports production class for undergraduate students.
LECTURER OF ESPORTS
Nikita Bair
Nikita Bair graduated from Northeastern University in 2021, earning his Bachelor of Science in Economics and Business Administration with a Finance concentration and an International Affairs Minor. In 2023, Bair earned his MBA from Shenandoah University with a focus in Esports Management.
Bair has worked in a finance and accounting role at Gorton's Seafood and EDGE Consulting, and has ample esports experience including working for the Overwatch League's Washington Justice, as well as helping found the first Varsity Esports Program in New England at Northeastern University.
Bair has secured and carried out multiple event organization contracts for industry leaders including Activision-Blizzard, NetEase, and Mineski, as well as performing as a commentator for marquee esports events such as Shine or Super Smash Con.
His experience in traditional finance and esports business has provided Nikita with the ability to better prepare students to enter the workforce and excel from the start.