Thomas Sweitzer's (C '95, '11) off-Broadway show, "20 Seconds" featured 48 performances from Sept. 10 through Oct. 21 at the Pershing Square Signature Theatre in New York, New York. (Pictured to the left along with Jeremy Blaustein (C '06) who directed and developed the show.)
Ronald Harkins (C '97, '99) authored a book entitled, "Luka's Christmas Quilt."
On Oct. 27, Sheryl Chris Garber (AS '99) was highlighted in an article entitled, "Handley Notables: Sheryl Chris Garber, Class of 1975."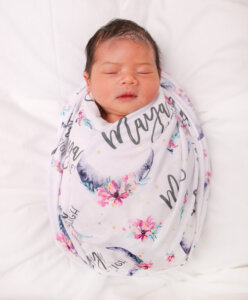 On Oct. 8, Ariel Walker Arias (AS '14) welcomed baby Maya into the world. (Pictured to the right.)
On July 26, Sarah Mawyer Ridenhour (C'15) welcomed baby Emma into the world. (Pictured to the left.)
Alejandro Hernandez-Valdez (C '19) was highlighted in an article entitled, "Conductor Allows All Voices to Rise at All Souls."
On Oct. 27, Cahal Masterson (C '19) performed in the 'Brahms at the Piano' concert at the Flowerfield Arts Centre in Portstewart, Northern Ireland.
In October, Ting-Yu Chen (EL '19) accepted an invitation from Virginia Commission for the Arts' Executive Director Margaret Hancock to serve as an expert in the field of dance on their FY24 Statewide Advisory Panel for Fellowships in Choreography.
Brody Grant (C '21) was cast in Broadway's "The Outsiders" as a lead performer in the role of Ponyboy. (Pictured in the feature image of blogpost.)
Kati Freeman (C '21) accepted a role in "Grease" on Royal Caribbean's Harmony of The Seas as a dance/vocalist in the female ensemble, as well as a cover for the role of Frenchy.
In October, Marie Raymond (C '22) was chosen to run audio for the first-ever Jollywood Night event at Disney's Hollywood Studios.
---
In Memoriam

Norman Sites (B '77) of Winchester, Virginia, passed away on Oct. 25, 2023.
Maryl Hill (AS '06) of Tiffin, Ohio, passed away on Sept. 30, 2023.
Kelly McGaughey Roseberry (HP '10) of Readfield, Maine, passed away on Oct. 28, 2023.