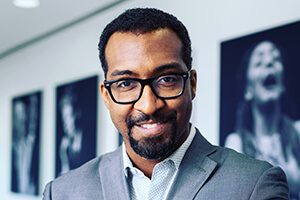 Position:
Assistant Provost for Inclusion, Diversity & Equity; Associate Professor, Music Therapy
Location:
Ruebush Hall, Room 218
Email:
hleonard@su.edu
Employed Since:
2014
Divisions:
Conservatory Academics
Educational History:
B.A., Morehouse College; M.M., Ph.D., Florida State University
Professional Highlights:
Dr. Hakeem Leonard attained his Bachelor of Arts in Instrumental Performance (Saxophone) from Morehouse College and then pursued a master's and doctorate degree in music therapy from Florida State University. He has over 10 years of experience in music therapy private practice, working in multiple settings including schools, assisted living centers, behavioral health centers, other facilities. As a professor, Leonard prioritizes student-centered engaged learning and has led music therapy experiences in Uganda and Guatemala. He has research interests in mental health, early childhood, student development, cultural sensitivity and awareness, and pain management. In addition to serving as assistant professor of music therapy and coordinator of undergraduate music therapy at Shenandoah University, Leonard also teaches and serves as a consultant on business development in music therapy.