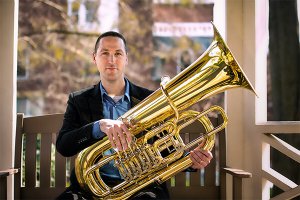 Position:
Adjunct Associate Professor, Tuba and Euphonium
Email:
zachary.bridges@su.edu
Employed Since:
2022
Conservatory Professional Highlights:
Zachary Bridges joined The United States Army Band "Pershing's Own," Ceremonial Band in 2016. His primary duties in the Ceremonial Band include supporting funerals at Arlington National Cemetery as well as wreath-laying ceremonies by heads of state and other foreign dignitaries at the Tomb of the Unknown Soldier, monthly retirement parades, special reviews and arrival and departure honors for foreign dignitaries at the White House and Pentagon.
Bridges also currently serves as the principal tuba of the Maryland Symphony, a position he has held since 2019. He is a founding member of the Apex Brass, an ensemble of premiere military band members, and has performed with several organizations in the region, including the Baltimore Symphony, National Symphony Orchestra and Maryland Lyric Opera.
Bridges received his bachelor's degree from Baylor University where he studied with Dr. Kent Eshelman. He received his master's degree from Rice University's Shepherd School of Music, where he studied with David Kirk, principal tuba of the Houston Symphony.
In addition, he has had several solo appearances in concerts and competitions including performing Arlid Plau's "Concerto for Tuba and Strings" with the U.S. Army Orchestra at the 2020 United States Army Band Tuba-Euphonium Workshop.
Educational History:
B.M., Baylor University; M.M., Rice University
Recommended Link(s):