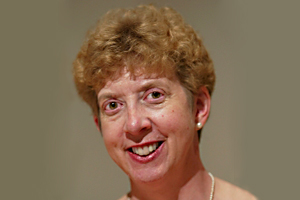 Position:
Professor Emerita, Piano
Email:
ecaluda@su.edu
Employed Since:
1978–2017
Applied Area(s):
Piano, Accompanying
Piano, Classical
Conservatory Professional Highlights:
Elizabeth Caluda, teacher and performing pianist, is a native of Grand Rapids, Mich. She earned a Bachelor of Music in Piano Performance from Aquinas College in Grand Rapids, a Master of Music in Performance from Northwestern University in Evanston, Ill., and a Doctor of Musical Arts in Piano Pedagogy from The Catholic University in Washington, D.C. She did additional doctoral work at Louisiana State University in Baton Rouge. Professional memberships and activities include Pi Kappa Lambda (Alpha Chapter), the Virginia Music Teachers Association and the Music Teachers National Association. At Shenandoah, Caluda coordinates the group piano program and is the program director for the Bachelor of Performance – Piano and Bachelor of Music in Collaborative Piano curricula. She previously served as Keyboard Division Chair. Her current teaching duties include Applied Piano, Group Piano and Piano Pedagogy. She has also taught classes in Piano Literature, Keyboard Harmony, Repertoire in Piano Ensemble, The Piano in Chamber Music, The Independent Music Studio and The Brain and Music.
Caluda has studied piano with Paul Roberts, Thomas Mastroianni, Grace McFarland, Bela Borzymenyi Nagy, Barbara English Maris, Robert Dumm, Wanda Paul, Laurence Davis, Eugene Hopkins, Lucille Dinsmore and Nancy Erickson. In the fall of 1998, she was one of four SU faculty to travel to Africa University in Mutare, Zimbabwe as a guest instructor in piano. During the Spring of 1999, she enjoyed a sabbatical to study Impressionism and its influence on the piano music of Claude Debussy. The sabbatical included travels to London (for study with Paul Roberts), Paris (to see the Impressionist paintings in the museums there) and Monet's Garden at Giverny. Additional interests include a study of the human brain and its use in the teaching, performing, learning and memorizing of music as well as the physiological aspects of performing music.
With her husband, Glenn Caluda (now retired Shenandoah professor of guitar) she formed Duo Caluda, an ensemble specializing in the performance of repertoire for piano and guitar. They have been featured on several concert series, including Loyola University (Baltimore), Rowan University of New Jersey (Glassboro), the Bethlehem Guitar Festival at Moravian College and the Philadelphia Guitar Society. She is Vice-President of the Valley Chapter of the Virginia Music Teachers Association and served as Virginia State Coordinator for the Music Teachers National Association Junior High Competition. For over 25 years, Caluda was Director of Music for the Church of the Sacred Heart of Jesus, Winchester, VA. Prior to being appointed to the faculty of Shenandoah, Caluda was a member of the piano faculty at Toneskolen School of Music in St. Thomas, the United States Virgin Islands.
Educational History:
B.M., Aquinas College; M.M., Northwestern University; D.M.A., The Catholic University of America
Personal Quote:

What do I love to teach? Students! You just can't beat seeing that fire ignite in students when they realize they have acquired a new technical skill, or they are introduced to a composer who they end up just loving—and think is SO COOL!