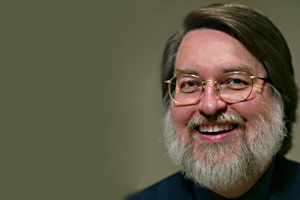 Position:
Professor Emeritus, Composition
Email:
waveritt@su.edu
Employed Since:
1973
Teaching Area(s):
Music Theory
Conservatory Professional Highlights:
William Averitt is the composer of more than seventy works that have received performances throughout the United States and in Europe, Russia, China and Korea. He has received fellowships, grants, and commissions from numerous sources including the National Endowment for the Arts (twice), the Maryland Symphony, Opus 3 Trio (Washington, D.C.), VMTA/MTNA (four times), the Atlanta Chamber Players, the Paducah (Kentucky) Symphony Orchestra and the Bach Choir of Pittsburgh.
In 1989, the Hans Kindler Foundation of the Library of Congress commissioned "Tripartita" for the Verdehr Trio, who performed the score extensively and recorded it for Crystal. In recent seasons, "Tripartita" has received numerous additional performances and has appeared in the active repertoire of the Helios Trio of the Netherlands, among others. Averitt's "Afro-American Fragments" won the 1992 Roger Wagner Center for Choral Studies Choral Composition Competition and has been performed by many university choruses as well as professional choruses including the Washington Singers, the Desert Chorale, the New Texas Festival, the Air Force Singing Sergeants, and Conspirare who released three of its movements on a 2004 Clarion compact disc. His two-hour "St. Matthew Passion" for choruses, soloists and orchestra (commissioned by a consortium of eleven southeastern university choruses) was premiered in April, 2000 in Columbia, South Carolina.
In the fall of 2002 he was selected by The Virginia Commission for the Arts as the recipient of one of twelve Virginia Artist Fellowships and, as a result, awarded a one-month residency at The Virginia Center for the Arts at Sweet Briar in 2003. He is a member of ASCAP and an annual Standard Awards recipient. His works are published by E.C. Schirmer, Treble Clef, ALRY, Gentry, Concordia, Michigan State University Press, Little Piper, MMB Publications and Thomas House.
Educational History:
B.M., Murray State University; M.M., D.M., Florida State University
Recommended Link(s):
William Averitt
Complete biography, press reviews and work list with audio excerpts